News & Events
SimbaNET Fiber Coverage
March 2013
May 2012
SimbaNET launches WIMAX POP in Mtwara

3G Mobile

SimbaNET has aligned itself with strategic partners that allow it to extend its reach even further. SimbaNET offers an easy to use, plug & play mobile connectivity solution with their 3G wireless modem or router. SimbaNET"s 3G Mobile connection supports download speeds of up to 3.1Mbps; with various flexible data packages to choose from and coverage in all major urban centers in Tanzania, it is the most affordable and accessible broadband internet in the country. The solution can also be a cost effective on-demand back up solution for the corporate business.
Pay As You Go option - no monthly subscription and no hidden charges. Various data packages available from 1GB to 20GB with flexible validity periods.
Send/Receive E-mail, browse the internet, connect remotely via VPN and work off site, all at wireless broadband speeds!
Advantages:
Licensed Frequencies – The SimbaNET"s 3G Mobile platform operates on TCRA licensed frequencies, thus eliminating possibility of interference and service degradation

Fast Speeds & Low Latency – 3G Mobile supports high throughput to each customer and low latency to the core network and Internet backbone allowing your applications to operate at optimum levels.

Multiple functions on a single platform - With the extremely high data capacity of 3G technology, your business can run multiple applications, VOIP, Video and Data without any noticeable service degradation.

Quality of Service (QoS) – Every customer can expect the highest QoS
24x7 support help desk manned by experienced engineers
24x7 network monitoring and fault detection

Commitment to quality that only SimbaNET can deliver

Ease of Connection – The customer premise equipment (CPE) is self installed quickly and easily in minutes.
Key Features & Benefits:
Totally wireless - internet access offering unparalleled mobility

Coverage - throughout all major cities in Tanzania

High Speed - Truly broadband browsing experience with throughput speeds of up to 3.1mpbs

Plug 'n Play - USB modem offering easy install

Back-up Link - The 3G mobile service can be used as a on-demand, inexpensive back up solution for small businesses and executives alike
Coverage available in and around all the following cities:
Dar-es-Salaam, Bagamoyo, Zanzibar, Morogoro, Iringa, Dodoma, Tanga, Moshi, Arusha, Mwanza, Musoma, Tabora, Mbeya, Ruvuma, and many more to come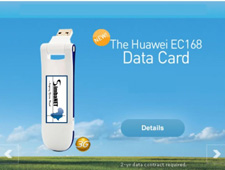 Products & Services
Data & Internet
Managed Services
Network Solutions
Custom Solutions
Value Added Services