News & Events
SimbaNET Fiber Coverage
March 2013
May 2012
SimbaNET launches WIMAX POP in Mtwara

Fiber to the Business (FTTB)
Fiber technology provides unlimited bandwidth capabilities and offers today's fastest high-speed data connectivity. Fiber-optics uses light to transmit data, a totally different architecture from that used by ADLS or VSAT. SimbaNET Fiber-to-the-Business (FTTB) enables a wide variety of uses, from real time applications, web based applications, telemedicine, VoIP & Video. FTTB is extremely flexible to customer preference; new products and services can be deployed very easily and remotely. FTTB provides a launch pad for technology innovators in Tanzania to create the tools and uses of FTTB for the rapidly growing broadband economy.

Today, SimbaNET is one of the very few privately owned ISP's that can offer businesses direct Fiber connectivity.

With plans to upgrade to a metro fiber network in metropolitan Dar-es-Salaam by 2011, your business is guaranteed to be served by the latest in communication technology.

Advantages:
Extremely high performance connectivity virtually unlimited bandwidth speeds (Gbps)
Additional capacity available on demand
Low Latency
Extremely reliable and "future proof"
Multiple functions on a single platform - With the extremely high data capacity of Fiber, your business can run multiple applications, VOIP, Video and Data without any noticeable service degradation.
High quality two-way video conferencing
Increased enablement of employee productivity
Quicker backups to DR site
International access via submarine fiber backhaul ( ) to Tier-1 POPs in Europe and Asia translates into faster and optimized speeds for users
SimbaNET"s services are supported by a stringent service level agreement (SLA) ensuring maximum uptime.
24x7 support - Help desk manned by experienced engineers around the clock
24x7 network monitoring and fault detection
Commitment to quality - That only SimbaNET can deliver
Key Features & Benefits
Unlimited Access to the internet - As a customer you are allowed to enjoy the service you have paid for without limitation of a data cap.
No hidden Costs - Complete transparency, you get what you pay for.
Always On - The technology is available 24x7, 365 days a year at a fixed subscription rate thus allowing better cost control for budgeting purposes.
Easily Upgradeable - Users can upgrade their service and get additional capacity without having to invest in additional equipment.
Dar-es-Salaam coverage - SimbaNET"s fiber network is available throughout the CBD Dar-es-Salaam.
Symmetric/Asymmetric - Committed Information Rate (CIR/Dedicated) & Maximum Information Rate (MIR/Shared) per subscriber available
Fully Transparent Usage Statistics - Users can check their bandwidth utilization online
Managed Quality of Service (QoS)
Warranty on equipment - All equipment is supplied with a 12 month warranty

Coverage

The SimbaNET Fiber network is currently available through out the central business district (CBD) in Dar-es-Salaam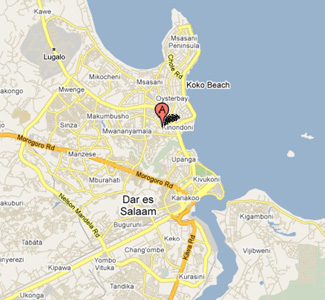 Products & Services
Data & Internet
Managed Services
Network Solutions
Custom Solutions
Value Added Services