News & Events
SimbaNET Fiber Coverage
March 2013
May 2012
SimbaNET launches WIMAX POP in Mtwara

VSAT Satellite

With SimbaNET"s VSAT data and internet connectivity you get an exclusive connection between your remote locations which is managed end-to-end by experienced people in order to let you focus on your day-to-day business.
Advantages:
High performance connectivity with high-download speed up to 16Mbps
Multiple functions on a single platform - With the extremely high data capacity of VSAT, your business can run multiple applications, VOIP, Video and Data without any noticeable service degradation.
Quality of Service (QoS) – Every customer can expect the highest QoS guaranteed by a Service Level Agreement (SLA) detailing SLA levels as well as Mean Time To Repair (MTTR)

24x7 support help desk manned by experienced engineers

24x7 network monitoring and fault detection
Commitment to quality that only SimbaNET can deliver
State of the art network components from leading vendors

Single hop to Dar es Salaam and Europe translating into optimized speeds for users.

Especially suitable for time critical applications

Operating in C-Band & Ku-Band

Satellite Coverage:
The SimbaNET VSAT solution offers seamless trans-oceanic and transcontinental coverage through the NewSkies global satellite fleet (NSS12). Coverage footprint show below.
Key Features & Benefits:
Unlimited Access to the internet - As a customer you are allowed to enjoy the service you have paid for without limitation of a data cap.
No hidden Costs - Complete transparency, you get what you pay for.

Always On - The technology is available 24x7, 365 days a year at a fixed subscription rate thus allowing better cost control for budgeting purposes.

Easily Upgradeable - Users can upgrade their service and get additional capacity without having to invest in additional equipment.

Pan-African coverage - SimbaNET"s VSAT network is available throughout Africa.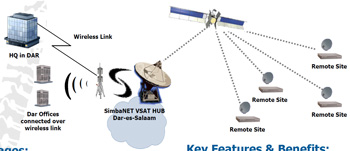 Products & Services
Data & Internet
Managed Services
Network Solutions
Custom Solutions
Value Added Services