News & Events
SimbaNET Fiber Coverage
March 2013
May 2012
SimbaNET launches WIMAX POP in Mtwara

VoIP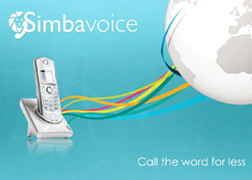 SimbaNET recently launched SimbaVoice, its Carrier Grade VoIP (Voice over Internet Protocol) service. VoIP phone service, sometimes referred to as broadband phone service or digital phone service is a phone service that operates by using your high-speed Internet connection. There are two types of VoIP services: phone-based and computer-based. These services allow you to make phone calls using either your regular phone or a computer headset with a microphone. As opposed to a traditional landline, VoIP uses your phone or computer to call the number. The call is sent over the Internet, instead of over traditional copper wires, reducing the overall cost of telephone calls dramatically.
A VoIP gateway converts the analog voice data into digital data packets which are sent over a broadband Internet connection to a VoIP server that forwards the message to the receiving party. Only SIP or ATA adapter can be used, or reprogramming your PABX if it is IP compliant and set it up to rout outgoing calls.

A SIP phone looks like and behaves just like a normal "phone". However it is connected directly to the data network.

An ATA adapter allows you to plug in the Ethernet network jack into the adapter and then plug the phone into the adapter. That way your old phone will appear to the VOIP phone system software as a regular SIP phone.

Whether Enterprise or Small Business, Hotel or Resort, SimbaVoice can operate over all connectivity options SimbaNET offers (Fiber, WiMax, or VSAT). With ultra low international calling rates, and free calling VoiP to VoIP, SimbaVoice is a perfect solution for the business.


Products & Services
Data & Internet
Managed Services
Network Solutions
Custom Solutions
Value Added Services